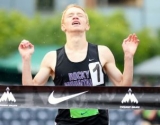 April 30, 2016
"The backstretch was just completely lined up with people screaming. It definitely was a lot of adrenaline. It was awesome."

By Jerry Ulmer, The Oregonian / OregonLive

By the time Michael Slagowski hit the last lap in the elite Mile at the Jesuit Twilight Relays on Friday night, he was...
Read More
comments