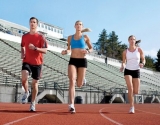 June 25, 2020
To run fast, you have to practice running fast. Once a week, run a number of short repeats (200-400m) at your Mile goal pace with a short recovery jog (1-2 minutes) in between.
By Megan Harrington, Active.com
A single Mile. 1609 meters. 5280 feet. Compared to 13.1 or 26.2-mile races, it...
Read More
comments