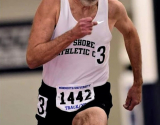 January 29, 2021
Masters ace recorded a sub-6 Mile for 57 straight years from 1963 to 2019!
From Lifetime Running
New Jersey's Harry Nolan has been a top U.S. runner in one event or another since the mid-1970s. He started on the track, moved up to the marathon (PR of 2:22), and then moved back to the track in...
Read More
comments