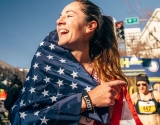 May 22, 2019
Training for shorter distances helped Leigh Anne Sharek finally achieve her goal of going sub-3:00 in the marathon and more!
By Hailey Middlebrook, Runner's World
It all started with a bet. When Leigh Anne Sharek was fresh out of college, a friend bet that she could beat her in a 5K. While...
Read More
comments