Nick Willis Breaks Medtronic TC 1 Mile Record, Pockets $15,000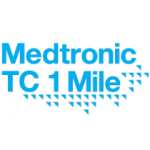 May 09, 2013
Sarah Brown nips Olympian Nicole Sifuentes for women's crown; six men clock sub-4 minute Miles in Minnesota
By Charlie Mahler, Twin Cities In Motion
MINNEAPOLIS, Minn. – Olympic silver medalist Nick Willis extended his season winning streak to eight races with a record-breaking victory at the Medtronic TC 1 Mile on Thursday evening in Minneapolis. The New Zealand native clocked 3 minutes, 56.1 seconds to break three-time Medtronic TC 1 Mile champion David Torrence's 2011 record of 3:58.4.

In the women's professional race, Sarah Brown of Knoxville, TN, the 2010 race runner-up, edged Canadian Olympian Nicole Sifuentes at the tape in 4:33.3, with Sifuentes stopped at 4:33.4. Defending champion Heather Kampf of Minneapolis was third (4:34.1).

More than 3,100 runners participated in the 9th edition that raised $10,000 for the victims of the Boston Marathon bombing. The event, which raced through the heart of downtown Minneapolis, consisted of seven waves of runners of all ages and paces.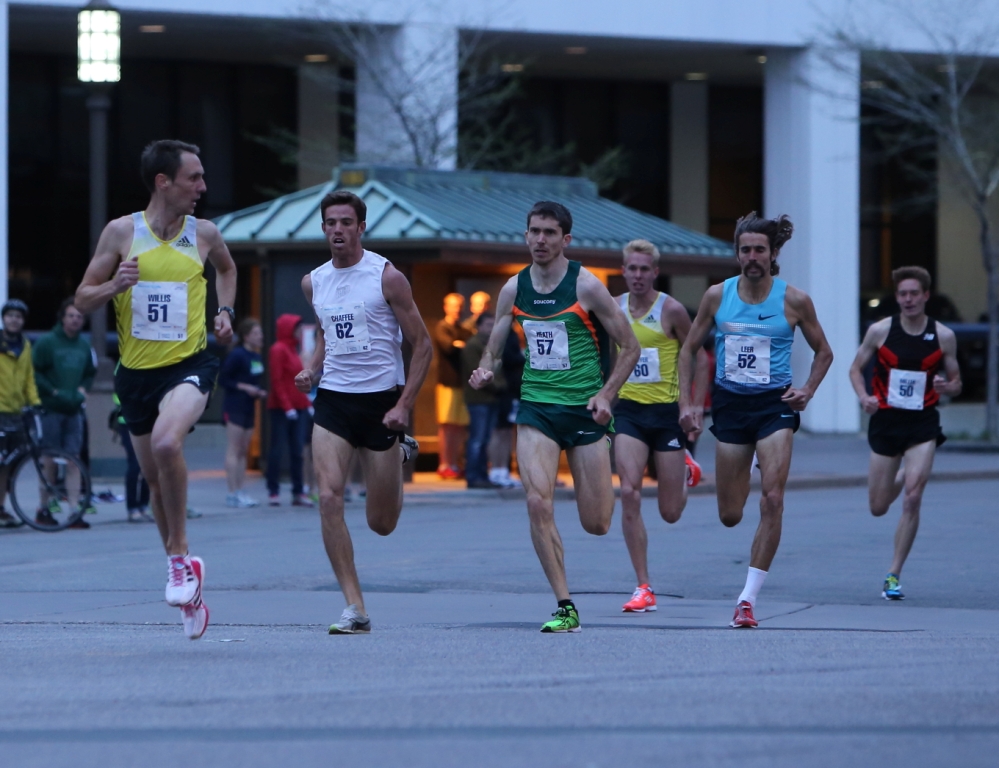 The 30-year-old Willis (left, courtesy Gene Niemi), who won his 1500 silver medal at the Beijing Games in 2008, blasted away from the field in the late-going, but eased his way to the finish line in the final meters despite the $10,000 record bonus.
"I took the lead with about 450 m to go," the University of Michigan graduate said. "I wanted to save something for the end if I needed it."
Winona, Minnesota native Garrett Heath finished second at 3:57.1, while Macklin Chaffee, of Boulder, Colorado, was third in 3:58.1. Six men broke four minutes in the event; the top three broke the previous record.
Brown, 26, who met her runner-husband at the 2010 Medtronic TC 1 Mile, needed all 5280 feet of the mile to catch Sifuentes at the tape of the women's race. Anxious minutes ticked by until Brown was announced the winner.

"I thought, if the wind's at my back, I want to just go for it," Brown said. "My goal was to lead it ... [but] I had to maneuver a little bit more than I planned. A road mile is a lot different than a track race. It's anybody's game."

The Medtronic TC 1 Mile was the fifth stop on the inaugural Bring Back the Mile Tour that includes 14 events and one end-of-the-year gala held across the country and throughout the year.
"We had an amazing night," Twin Cities In Motion executive director Virginia Brophy Achman said. "From the Friends and Family Wave at the start of the night, to the Corporate Team Challenge, our fundraising for Boston, and the two fantastic professional races that climaxed the night, we feel exhilarated by everything that happened tonight."

9th Medtronic TC 1 Mile
Minneapolis, MN, Thursday, May 9, 2013
MEN
1) Nick Willis (NZL), 3:56.1*, $15,000#
2) Garrett Heath (MN), 3:57.1, $3000
3) Macklin Chaffee (CO), 3:58.1, $1800
4) Will Leer (MN), 3:59.3, $1000
5) Craig Huffer (MA), 3:59.4, $600
6) Craig Miller (CO), 3:59.7, $400
7) Scott Smith (AZ), 4:06.9, $250
8) Jonathan Peterson (MN), 4:08.6, $200
9) Nahom Mesfin (ETH), 4:08.8, $150
10) Mack McLain (CO), 4:09.6, $100
*course record (previous record, 3:58.4, David Torrence (USA / CA), 2011)
#includes $10,000 course record bonus
WOMEN
1) Sarah Brown (TN), 4:33.3, $5000
2) Nicole Sifuentes (CAN), 4:33.4, $3000
3) Heather Kampf, (MN), 4:34.1, $1800
4) Gen LaCaze, (AUS), 4:35.0, $1000
5) Phoebe Wright (TN), 4:36.7, $600
6) Kellyn Johnson (AZ), 4:37.5, $400
7) Jamie Cheever (MN), 4:39.7, $250
8) Elizabeth Yetzer (MN), 4:40.7, $200
9) Hannah Wanjiru (KEN), 4:47.8, $150
10) Ashley Miller (NE), 4:48.2, $100
Complete results can be found at: tcmevents.org