The Best Mile Moments of 2019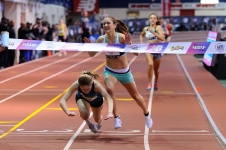 December 20, 2019
Longstanding indoor and outdoor Mile world records broken; Herrera & Kampf BBTM Grand Prix Tour champions and more BBTM Effect!
By Ryan Lamppa, Bring Back the Mile
The Bring Back the Mile campaign was launched in January 2012 to elevate & celebrate the storied distance, and over the past 8 years, without question, the Mile's profile, coverage and "buzz" has risen, mainly due to increased prize money, new Mile races and athletes producing more top level national and international Mile performances not only in quantity, but also in quality. We call this ripple impact: The BBTM Effect.
Put simply, it was another banner and historic year for the Mile, and below is a summary snapshot of 2019's best Mile moments.
BBTM EFFECT FAST FACTS
► Longstanding indoor (men) and outdoor (women) Mile world records were broken in 2019 (see further below).
► This year, there were at least 28 competitive inaugural Mile races, awarding more than $35,000 in new prize money led by the Virginia Mason Memorial Downtown Yakima Mile ($30,400). Since 2012, an average of 33 new Mile races per year have debuted.
► For the first year since BBTM's launch, Mile event prize money declined year-to-year because four races with $105,000 combined purses in 2018 – Medtronic TC 1 Mile, Minnesota Mile, Brooks Beasts Desert Throwdown and Mitchell Street Mile – either did not offer prize money (first two) or were cancelled (last two). Overall, prize money decreased from a record $678,020 in 2018 to $626,950 this year (down 7.5%). Since 2012, prize money at Mile events has grown by more than $485,000 or 352%.
► This year, 22 U.S. men clocked their first sub-4 minute Mile on the track, and as a result, for the 14th straight year, the first sub-4 U.S. annual number again reached double digits with an average of 23 first-timers in the past 8 years compared to only 7 per year from 1957-2011.
► In 2019, three U.S. women hit their first sub-4:30 track Mile, and since 2012, first-time U.S. women to this select club have averaged nearly 6 per year compared to only 1 per year from 1975-2011.
► For the year, Sam Prakel (USA) ran the most track sub-4s with 6, while for the women, Cory McGee (USA) clocked the most sub-4:30s with 4.
► The 6th BBTM Grand Prix Tour presented by Running Warehouse featured five top U.S. Mile races, awarding an overall Tour prize purse of $110,800 plus $10,000 GP money. Daniel Herrera defended the men's Tour, while Heather Kampf recaptured the GP crown, her record fourth (also 2014-16). The two Best Tour Moments per gender, as determined by fan voting, were Daniel Herrera (The Navy Mile) & Tripp Hurt (Grand Blue Mile) and Nikki Hiltz (Grand Blue Mile) & Emily Lipari (The Navy Mile).
Oh So Close for Kejelcha at Wanamaker – February 9
The Wanamaker Mile races at the 112th Millrose Games produced fast times highlighted by Yomif Kejelcha's near indoor world record of 3:48.46, just .01 off of Hicham El Guerrouj's WR from 1997. The two-time indoor 3000m world champion, who did set the Ethiopian indoor and the U.S. All-Comers records, led 9 other men to sub-4 minute performances. For the women, rising star Konstanze Klosterhalfen of Germany soloed an impressive 4:19.98, #5 woman all-time indoors. Defending champion Colleen Quigley finished runner-up, setting an indoor personal record of 4:22.86, #9 woman AT and #4 U.S. woman AT indoors. Overall, nine women went sub-4:30.
Quigley Upsets Houlihan for USA Indoor Mile Title – February 23
At the Toyota USATF Indoor Championships on Staten Island, Colleen Quigley, with a strong last lap surge, won the Mile by upsetting two-time defending champion & Bowerman TC teammate Shelby Houlihan, 4:29.47 to 4:29.92. This was Quigley's first national title as a pro, while snapping fellow Rio Olympian Houlihan's eight consecutive USA Championship title streak. Cory McGee took third in 4:30.14.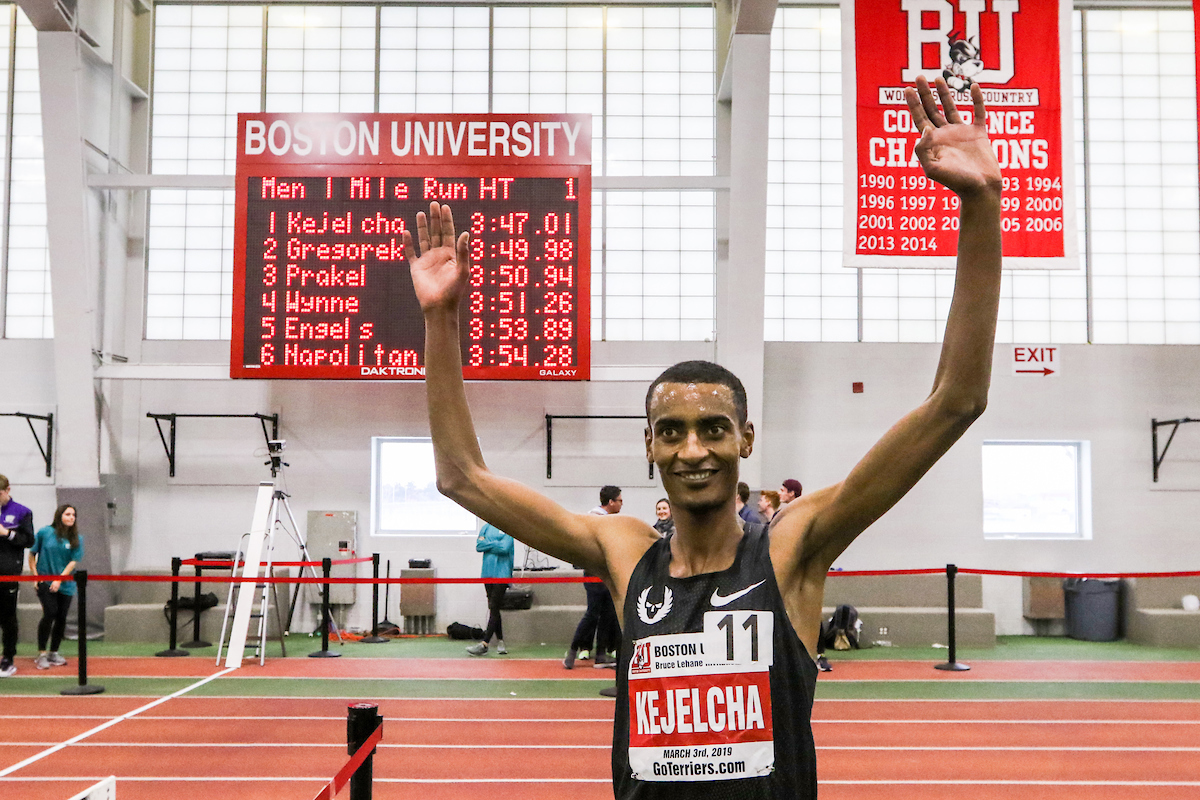 Kejelcha Crushes Indoor Mile World Record – March 3
On Boston University's ultra-fast indoor 200 meter track, Yomif Kejelcha of Ethiopia, 21, broke legend Hicham El Guerrouj's 22-year-old indoor Mile world record of 3:48.45, clocking 3:47.01 (also #9 absolute individual all-time). Johnny Gregorek was runner-up in 3:49.98 (#2 U.S. indoor all-time) to lead a 7-strong American sub-4 contingent including Sam Prakel (3:50.94, #5 U.S. indoor AT), Henry Wynne (3:51.26, #7 U.S. indoor AT) and Craig Engels (3:53.89 PR). In addition, for the first time in the same indoor race, two men went sub-3:50. In sum, Mile magic in Beantown!
Parks, Starliper Photo Finish at New Balance Indoor HS Championships – March 10
An incredible, dramatic finish at the New Balance Nationals Indoor: USA High School Championships in New York City as Taryn Parks just edged fellow Pennsylvania junior Marlee Starliper, 4:39.05 (4:39.045) to 4:39.05 (4:39.048), see photo above right. Both times cracked the U.S. High School-only girls Mile All-Time Top 10 (#9 and #10). #AGT
Hiltz Wins Grand Blue Mile, USA Title in Record Fashion – April 23
At the 10th Grand Blue Mile in Des Moines, rising star Nikki Hiltz beat a top women's field, clocking 4:29.7, a course and USA Championship record. The men's race featured a trio – Tripp Hurt, Brandon Lasater and Nick Harris – in a thrilling final sprint with Hurt prevailing in a photo finish, 4:03.9 to 4:04 for Lasater and Harris. At the BBTM Grand Prix Tour 2019 opener, Hurt and Hiltz also won their first USA titles.
Record Setting Day at the State Street Mile – June 2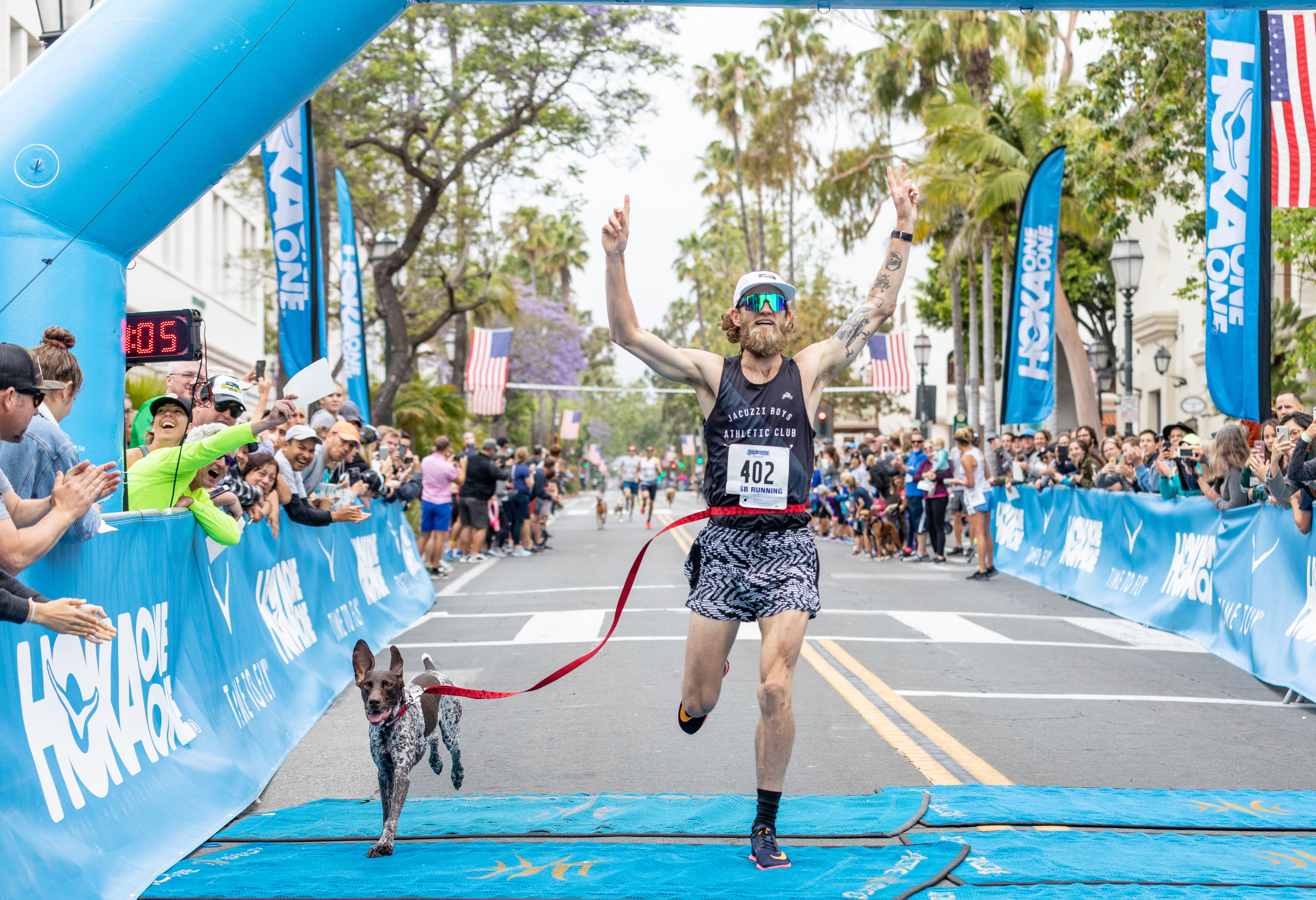 In Santa Barbara, Therese Haiss won the 20th State Street Mile in 4:19 to record the fastest women's Mile on California soil, beating Mary Decker's 4:20.5 indoors from 1982 in San Diego. In addition, at the spectator-favorite Dog Mile, the unofficial world championship, Dan Wehunt & Odessa (German Shorthaired Pointer) of Bozeman, Montana shattered the world record by 6 seconds with their incredible 4:07 clocking. The previous record was 4:13 by Brian Duff & Kaydom (Weimaraner) at the 2016 event; this year, the pair finished second in 4:16.
Bartelsmeyer Clocks Fastest Mile on Washington Soil – June 8
At the inaugural Downtown Yakima Mile, Amos Bartelsmeyer beat a top elite field with a late surge on the downtown point-to-point course, clocking an official time of 3 minutes, 52 seconds (converted from 3:51.76) to secure the $5000 bonus for bettering the Washington state Mile record and thus doubling his winnings to $10,000. Previous fastest in-state Mile was 3:52.61 indoors by Yomif Kejelcha in Seattle, January 12, 2019. Overall, six men went under 4 minutes, the Mile's benchmark standard.
For the elite women, Therese Haiss won her second Mile race in 6 days, running 4:29 to miss the state women's Mile record bonus by less than two seconds.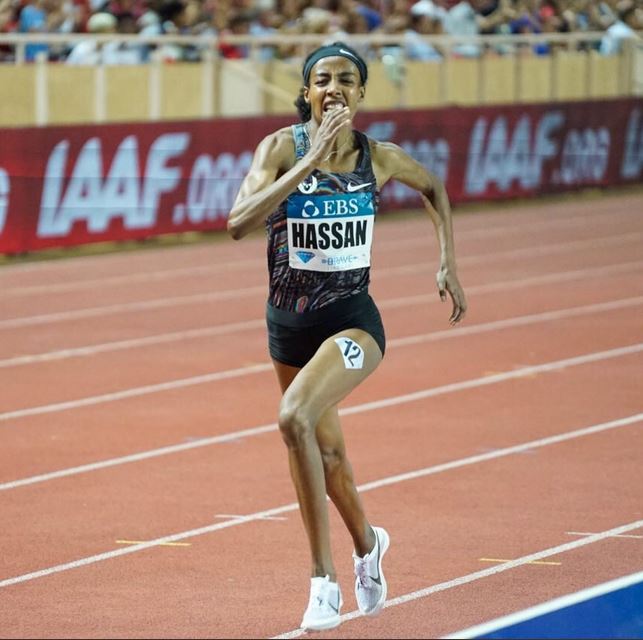 Hassan Sets Women's Mile World Record – July 12
At the Herculis meet's inaugural Brave Like Gabe Mile, Sifan Hassan of The Netherlands broke the longstanding women's world record with an impressive negative split clocking of 4:12.33 (2:08.5 / 2:03.83). Previous record was 4:12.56 by two-time Olympic champion Svetlana Masterkova in 1996. Along with the $10,000 for the Diamond League win, Hassan also earned a $50,000 world record bonus.
In addition, numerous personal records were run and three other national records were set: 4:17.87 Gabriela DeBues-Stafford (Canada), 4:18.42 Rababe Arafi (Morocco) and 4:18.65 Winnie Nanyondo (Uganda). Gabe Grunewald would have been proud & happy of this historic race in her honor.
U.S. Women Shine at USA Championships – July 27
At Drake Stadium in Des Moines, the USA Championship 1500 meters produced the deepest women's results ever in the event's history: first time the top 5 sub-4:04, first time the top 10 sub-4:09, best time for place (3-12) and 5 personal records. SIDE NOTE: In 2019, a record 12 U.S. women broke 4:05 in the 1500. #AGT
1) Shelby Houlihan, 4:03.18, defended title
2) Jenny Simpson, 4:03.41
3) Nikki Hiltz, 4:03.55 PR
4) Sinclaire Johnson, 4:03.72 PR
5) Kate Grace, 4:03.82
6) Shannon Osika, 4:04.80 PR
7) Heather MacLean, 4:05.27 PR
8) Karisa Nelson, 4:06.14 PR
9) Elise Cranny, 4:06.19
10) Katie Mackey, 4:08.57
11) Eleanor Fulton, 4:11.00
12) Lauren Johnson, 4:11.99
Simpson, Willis 5th Avenue Mile Champions Again – September 8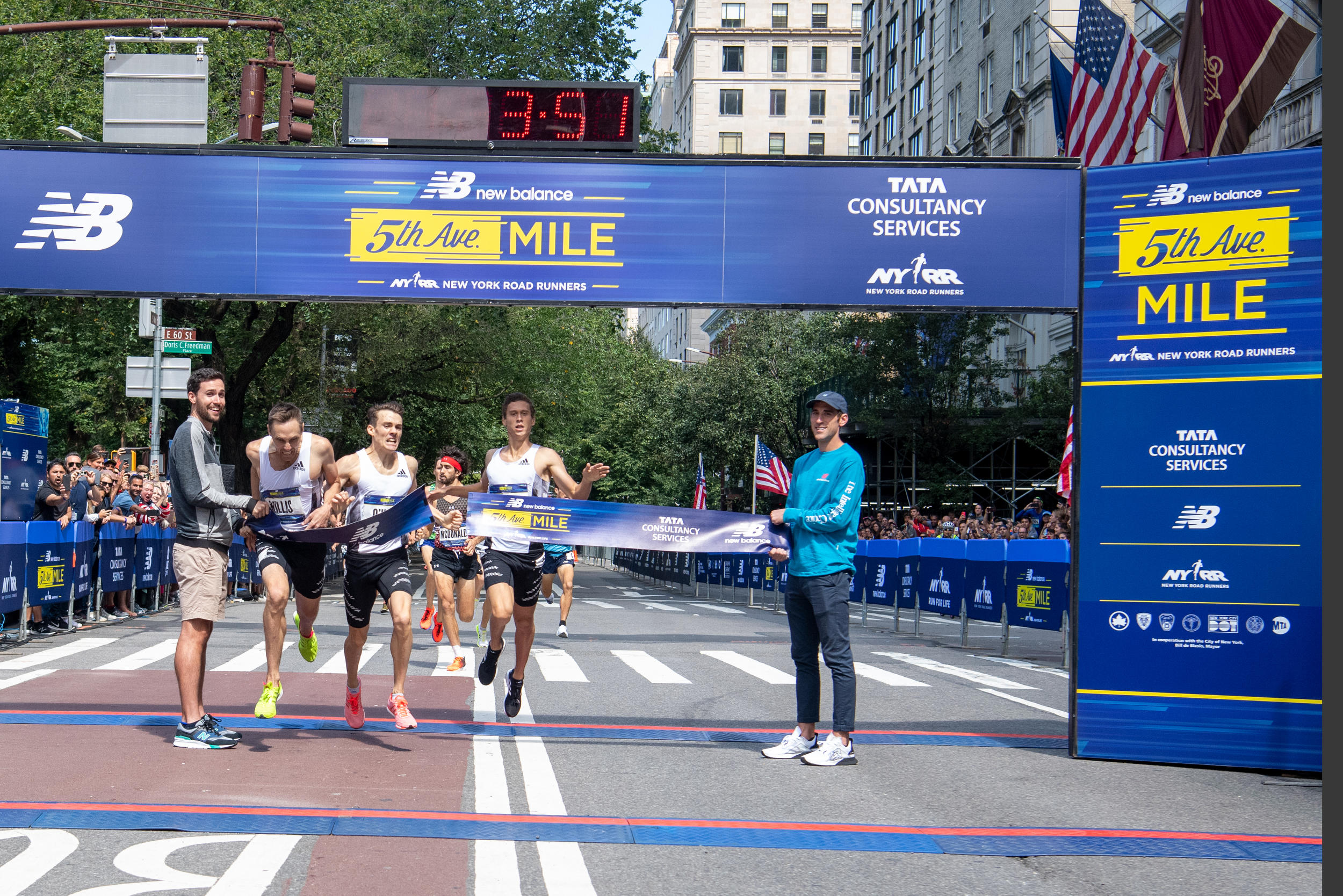 At the 39th New Balance 5th Avenue Mile, American Jenny Simpson secured her record-extending eighth title, and record 7th straight, in an event record time of 4:16.1, just edging runner-up Elinor Purrier, 4:16.2. The men's race was a photo finish (right) with New Zealand's Nick Willis winning his record-breaking 5th title with a lean over Chris O'Hare, both timed in 3:51.7, with Sam Prakel right behind in 3:51.8. Overall, 18 men went sub-4, and an event & world record 9,275 runners finished the iconic race.
Greatest Women's 1500m Ever! – October 5
At the World Championships in Doha, Qatar, the women's 1500m final produced arguably the greatest women's 1500m race ever. Sifan Hassan of The Netherlands, who earlier won the 10,000m, clocked a championship record of 3:51.95. In addition, three other national records were set by runner-up and defending champion Faith Kipyegon of Kenya (3:54.22), USA's Shelby Houlihan (3:54.99, fourth place) and Gabriela DeBues-Stafford of Canada (3:56.12, sixth place). Overall, 9 women broke 4 minutes. One word: incredible!
Herrera, Lipari The Navy Mile Champions – October 6
At the BBTM Grand Prix Tour 2019 finale, The Navy Mile, in Washington, DC, Daniel Herrera, 26, from New Orleans, LA, won the men's race, clocking 4 minutes, 5 seconds and earning $3000. With his first Tour victory, Herrera secured and defended his grand prix title with 30 points. In the women's race at the 5th edition, Emily Lipari, 26, Poulsbo, WA, shattered the course record with her 4:33, holding off Shannon Osika (same time), and the 2017-18 Tour champion pocketed $3500 including a $500 course record bonus.
In addition, defending race champion Heather Kampf, 32, from Minneapolis, MN, finished 4th (4:43) to capture, with 30 points, her record 4th Tour crown (also 2014-16). The Tour 2019 champions took home $2000 each.
World Athletics' Inaugural Heritage Mile Night – November 21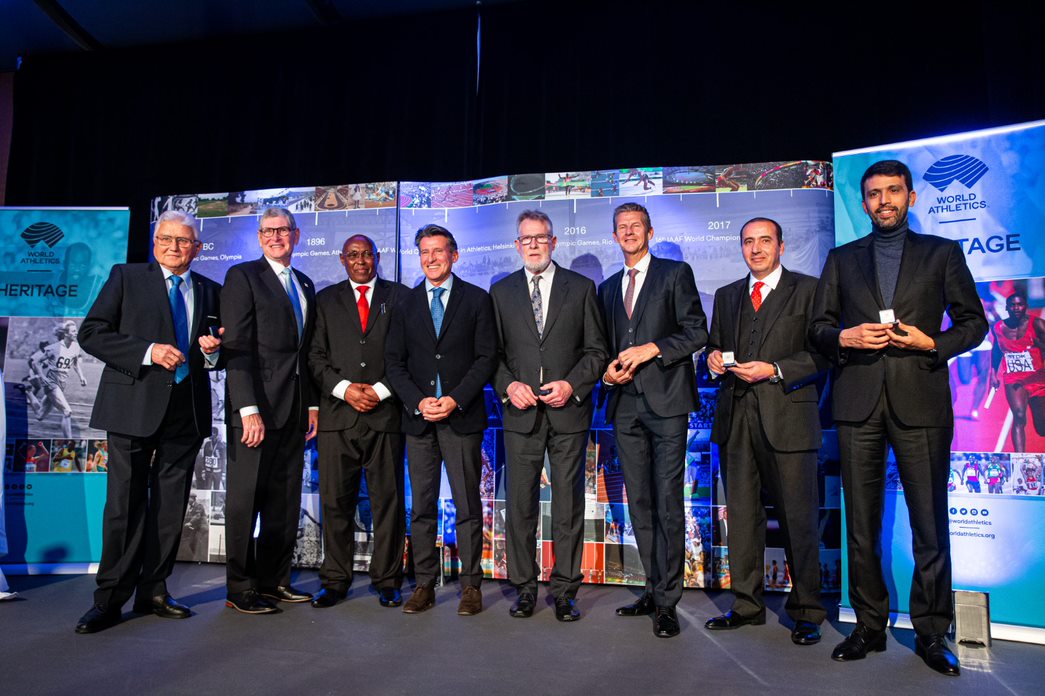 At the inaugural Heritage Mile Night in Monaco, World Athletics (formerly IAAF) celebrated and recognized Mile history, iconic events and record setting legends, including Roger Bannister and Diane Leather Charles, the first man to run the Mile in under 4 minutes and the first woman to break the 5 minute barrier, respectively.
World Athletics President and Mile legend Sebastian Coe hosted the event that brought together eight of the last 10 living men's outdoor world record holders (above).
Well done, World Athletics!
Cheserek Clocks Fastest Mile in Hawaii – December 7
Kenyan Edward Cheserek three-repeated at the Kalakaua Merrie Mile in Waikiki, running 3:53.3, an event record and the fastest Mile ever on Hawaiian soil. The road course includes a 180-degree turn, making his performance even more impressive. In this handicap race (women received a 28-second head start), American emerging star Elinor Purrier was the top woman in 4:25.0, third overall.
In Memoriam
On June 11, Gabe Grunewald, 32, after a 10-year on-and-off battle with a rare cancer, passed away surrounded by a world of love. "My message is that it's OK to struggle, but it's not OK to give up on yourself or your dreams."
On December 12, New Zealand's Peter Snell, legend, titan, scholar & three-time Olympic champion, died at age 80 in Dallas. Snell, one of Arthur Lydiard's world beating Kiwi "boys", also set the Mile world record twice in 1962 (3:54.4) and 1964 (3:54.1).