Two Minnesota Stars Added to Medtronic TC 1 Mile Field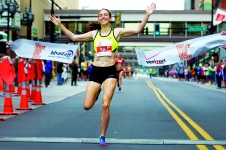 April 29, 2015
Former Gopher Grunewald, Winona native Heath to face top field; $25,000 prize purse plus $10,000 event record bonuses; second BBTM Grand Prix Tour 2015 stop in Minneapolis on Thursday, May 14
From Twin Cities In Motion
ST. PAUL, Minn. - Former University of Minnesota star Gabriele Grunewald and Winona native Garrett Heath have been added to the field for the 10th Medtronic TC 1 Mile on Thursday evening, May 14, when the race serves as the 2015 USATF 1 Mile Road Championships.
Grunewald (photo above right: Jeff Frey & Associates), a Perham native who later ran for the Golden Gophers, is the 2014 USA Indoor 3000m champion and in 2012 narrowly missed making the U.S. Olympic team, finishing fourth in the Olympic Trials 1500m. Grunewald, 28, who has thrived as a professional athlete despite a cancer diagnosis six years ago, is a member of Team USA Minnesota, the Twin Cities-based pro distance running training group. She sports a personal best 4:21.3 for the Mile.
Heath, 30, who was an 8-time All-American while competing for Stanford University, returns to the Medtronic TC 1 Mile after a runner-up finish in the 2013 event. In 2014, Heath won the USA 1 Mile Road title and was the runner-up in the NYRR Fifth Avenue Mile. His Mile personal best is 3:53.15 (track) and 3:51 (road). As strong, versatile runner, Heath has twice won the 4K event at Great Edinburgh Cross Country, both times defeating 2008 Olympic 1500m gold medalist Asbel Kiprop of Kenya.
"We're excited to see how the USATF Championship fields are shaping up," Twin Cities In Motion Executive Director Virginia Brophy Achman said. "Minnesota has always produced great distance runners, and the top echelons of the Mile in the United States are well represented by Minnesota women and men like Gabe and Garrett."
Grunewald and Heath join 2012 Medtronic TC 1 Mile champions Heather Kampf and Craig Miller in the race field. Twin Cities In Motion will note additions to the USATF Championship field and make other announcements about the event via its Twitter feed, @tcmarathon, or with additional media releases.
A men's and women's combined prize purse of $25,000 awaits the professional fields at this year's race. Race winners who better the existing event records will earn a $10,000 bonus in addition to the champion's prize of $5000. Sara Hall set the women's event record of 4:30.8 in 2011, while Nick Willis set the men's standard in 2013 at 3:56.1.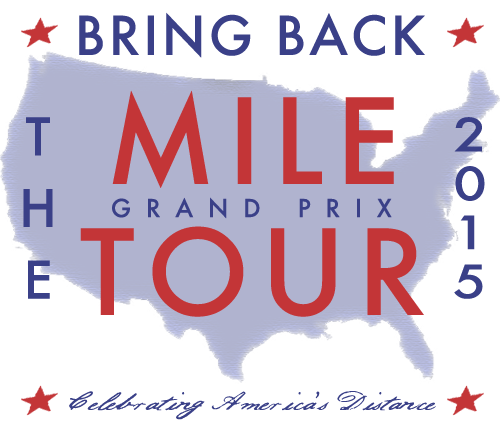 The USATF 1 Mile Road Championships return to the Medtronic TC 1 Mile for the first time since 2012, part of a two-year designation from the sport's governing body. The event is also the second stop on the Bring Back the Mile Grand Prix Tour 2015 that offers a $7500 tour prize purse.
The Medtronic TC 1 Mile, organized by Twin Cities In Motion, features an evening of races for runners of all ages and abilities. Action kicks off at 6:50pm CDT and culminates with the USA Championship races at 7:54pm (women) and 8:06pm (men). Online registration for the event is open at: tcmevents.org