Birmingham, Uceny Win B.A.A. Mile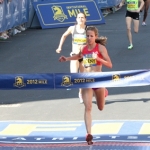 April 15, 2012
Groleau, Heffernan B.A.A. Scholastic Mile champions
By Jim O'Brien and Barbara Huebner
BOSTON - (April 15, 2012) - A field of elite male Milers - just five - lined up in near perfect conditions to contest the fourth B.A.A. Mile. Defending champion, Andy Baddeley from Great Britain, was not among them; but, even so - with such weather and such a tightly knit field - sparks were certain to fly on Sunday morning.
There was no distinct pre-race favorite, although Australia's Collis Birmingham was the fastest man in the field on paper, with a 3:53.9 road PB on his resume...
...In the women's Mile, Morgan Uceny (right, BAA), ranked #1 in the world, became the first two-time race winner, leaving behind her three rivals on the final lap for victory in 4:43.8.

Defending champion Marina Munca of Serbia was runner-up, in 4:44.5, with Americans Gabriele Anderson (4:46.3) and Treniere Moser (4:48) close behind.
Read full article with complete race results at www.runningusa.org