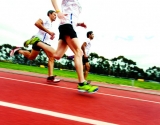 June 04, 2013
If your running is feeling stale, start training for the Mile.
By TJ Murphy, Competitor
Rob Delong was like most kids growing up when it came to running. Every year in gym class, he had to run a Mile.
That was the endurance component of the Presidential Physical Fitness Test, a grade school...
Read More
comments