Inaugural Bring Back the Mile Tour 2013 Reaches Mid-Point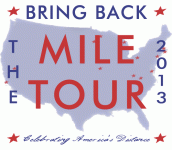 June 11, 2013
Highlights of national promotional tour of iconic distance include meet, U.S. Junior, NCAA, course and State records; Footloose Freedom Mile on Thursday, July 4 next stop
SANTA BARBARA, Calif. – (June 11, 2013) – The inaugural Bring Back the Mile Tour 2013, which features 14 events nationwide and one end-of-the-year gala, has reached the halfway point with plenty of highlights and Mile action. Bring Back the Mile (BBTM), launched in January 2012, is a national campaign to elevate and celebrate the iconic distance.
"To-date, the Bring Back the Mile Tour has generated some thrilling racing and also produced numerous Mile records in several categories," said BBTM Founder Ryan Lamppa. "Without a doubt, the Tour events have engaged and entertained runners of all ages and abilities, the media, fans and the general public, and we look forward to the second half of the BBTM Tour 2013 and more Mile excitement."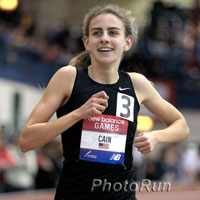 BBTM Tour 2013 highlights include:
• Camel City Indoor Mile – North Carolina State indoor record by Cory Leslie (3:57.81)
• NYRR Wanamaker Mile – meet, indoor NCAA & U.S. Junior and HS records respectively: 3:51.21 (Lopez Lomong), 3:52.98 (Chris O'Hare) and 4:28.25 (Mary Cain, left)
• Medtronic TC 1 Mile – course record 3:56.2 by 2008 Olympic silver medalist Nick Willis who earned a $10,000 record bonus
• Platinum Performance State Street Mile – course record 3:49 by Michael Coe
The next stop on the Tour is the Footloose Freedom Mile in Mammoth Lakes, CA on Thursday, July 4. The event is organized by the Mammoth Track Club led by Deena and Andrew Kastor.
Bring Back the Mile Tour 2013
| | |
| --- | --- |
| | New Balance Indoor Grand Prix, Boston, MA February 2 |
| | Camel City Indoor Mile, Winston-Salem, NC, February 2 |
| | 106th Millrose Games: NYRR Wanamaker Mile, NY, NY, February 16 |
| | Tri-Cities Track Classic: Ray Flynn Mile, Johnson City, TN, April 20 |
| | Medtronic TC 1 Mile, Minneapolis, MN, May 9 |
| | Big River Festival of Miles, St. Louis, MO, May 30 |
| | Platinum Performance State Street Mile, Santa Barbara, CA, June 2 |
| | Footloose Freedom Mile, Mammoth Lakes, CA, July 4 |
| | DC Road Runners 1 Mile Track Championships, Arlington, VA, July 24 |
| | Ryan Shay Mile, Charlevoix, MI, July 27 |
| | GNC Live Well Liberty Mile, Pittsburgh, PA, August 9 |
| | Falmouth Mile, Falmouth, MA, August 10 |
| | Michigan Mile at the Crim Festival of Races, Flint, MI, August 23 |
| | Grandma's Minnesota Mile, Duluth, MN, September 8 |
| | Evening with a Miler Gala, Santa Barbara, CA, Fall 2013 |
Visit www.bringbackthemile.com/tour or contact media@bringbackthemile.com for more BBTM Tour news and information.
About Bring Back the Mile
The Mile holds a special place in Track & Field and beyond because no running distance, or field event for that matter, has the history, the appeal, the "magic" of the Mile. The first sub-4 minute Mile by Great Britain's Roger Bannister in 1954 is regarded as the greatest individual athletic achievement of the 20th century (see Forbes November 18, 2005 article HERE), and no other event has produced an equivalent of the sub-4 minute Mile standard in the sport, in the media and in the public's mind.
Over the past decade-plus, unfortunately, the Mile has lost some of its luster, and thus, the Bring Back the Mile mission is: To return the Mile to prominence on the American sports and cultural landscape by elevating and celebrating the Mile to create a national movement.