Sowalkfast USATF Club: America's Distance!
June 13, 2012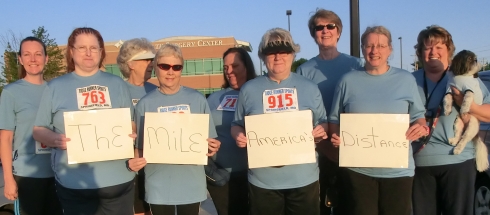 Thank you to Colleen Young and the Sowalkfast race walking club for submitting their great photograph after the The Medical Mile in Springfield, MO (its 21st year!). Sowalkfast is a competition oriented race walking club that focuses on walking as a sport & race walking technique with a membership that ranges from 20 - 75 years in age.

Colleen found us after frustrated that there weren't more Mile events and other shorter distance races garnering attention. They are even looking at co-sponsoring a Mile event next year; great!

Colleen says, "we were sold on your effort and started the campaign process to Bring Back the Mile. We're all about getting the High Schools back on the right track! Your campaign was an easy sell because after all, the current master's generation was around when the mile was really a big deal...we didn't grow-up with the 1600m! Again thanks -- sowalkfast is excited to be a part of this grassroots effort."

Thank you Colleen and everyone at Sowalkfast! We salute you!