Hokie, Ryan Witt, Fulfills Dream & Becomes #382 on U.S. Sub-4 Mile List
August 20, 2012
On May 10, 2012, three-time ACC 800 meter champion, Ryan Witt of Virgina Tech, became the 382nd American to break sub-4 minutes in the Mile at the Roanoke Twilight Qualifier in Salem, VA (video below). He joined our movement recently and sent in the story below on his quest to break four minutes.
In a follow-up email with Ryan, the 2006 Virgina AA State champion at 1600 meters, also mentioned to us that he petitioned the VHSL on BBTM's website and stated, "It makes me happy to see the Mile coming to the forefront of American middle distance running. While it may seem insignificant to some, I think the history and prestige in the event is something worth keeping."
Ryan is currently living in his hometown of Winchester, VA and working part-time at the local running store, Runner's Retreat, as he plans out his post-collegiate career. Best of luck Ryan!
Mile Maniac Ryan Witt:
Since the 3rd grade I knew I wanted to be a Miler. It was my dream to break the four minute barrier. I had the tools to do it and was gifted with great foot speed and endurance as a young runner.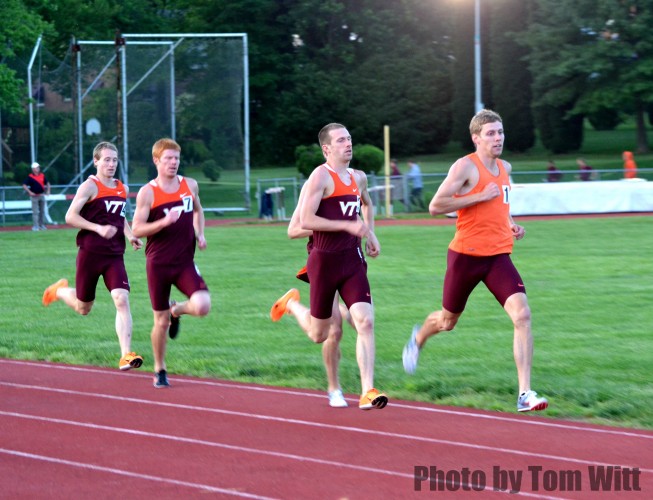 Ryan Witt leads his fellow Hokies en route to becoming the 382nd U.S. male under four with a 3:59.91 at the Roanoke Twilight Qualifier.
Following my dream I began competing at the middle school and high school level. I still remember the feeling when I broke 5 minutes for the first time - I was so close in the 8th grade running a 5:01 on the track and then two summers later I was able to run 4:48 at a local road race called The Loudoun Street Mile.
In high school I had a successful career which was highlighted by my AA State Championship in the 1600m, which at the time I referred to as the Mile. I continued to run in college for Virginia Tech and while my most notable successes came in the 800m (3-time ACC Champion), I always wanted to go after the elusive and coveted 4 minute barrier. My sophomore year I ran 4:05.00 indoors which put the sub-4 into reach.
I struggled to PR for the next two years as my training focused on the 800m. I assumed the 2012 indoor season would be my last chance to get a good shot at the Mile since it is an NCAA event indoors but is rarely contested outdoors. Unfortunately, I did not get a chance to race the Mile that season because I used all of my competitions to chase a spot at the NCAA meet in the 800m.
Then outdoors rolled around and I got wind of a Mile race being held in South Carolina. I made the drive to Furman where the Blue Shoes Elite Mile was being held with hopes of going sub-4. At this point my training had been going exceptionally well and my racing showed it. I had high expectations and I received a text message the morning of the race written in true Pootie Tang style. It read "Sign your piddy on the sub-4 runny kine my brotha. Whoop dey a$$. Wah da tey." With all the hype I set out on a hot breezy day and ran a 4:01.2 while closing in a 57.8 second last lap. It was a big personal record but I was still disappointed.
Nearing the end of the season I requested my coach to add a Mile to the meet we were co-hosting with Roanoke College. Some of my teammates and I wanted a shot at breaking the elusive barrier and placing ourselves into history. He obliged our request and the date was set: May 10, 2012. My family, friends, and teammates were all there to cheer on the race of five intrepid athletes, racing for entry into a very exclusive club. We had an even split race, and I came through the bell at 3:00. I knew I had to run the next 400m in under 60 seconds.
Years of training kicked in and I powered through with everything I had and it was just enough. As I crossed the line I could see the clock about to tick over to 4:00 but I wasn't sure for another three minutes as I waited on the final results. I was kneeling on the infield still panting from the effort when my time was announced, 3:59.91.
I had done it. For the rest of my life I can say that I am a sub-4 minute Miler. Also, whenever the average non-track enthusiast asks me what my Mile time is (because that is all they know) I can watch their jaw drop as soon as they hear me start with three.