New York vs. Boston, America vs. France
June 01, 2012
Thank you to Hakon DeVries who wrote a blog post in response to our call for 'most memorable mile' submissions in 359 words or less. His story was originally posted on his blog at http://hakondevries.tumblr.com/. Hakon is currently an Associate at Asset Management Ventures and an Assistant Track and Field Coach at Stanford University.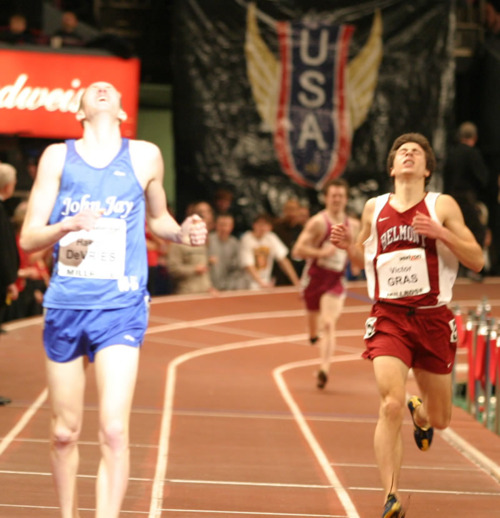 My most memorable mile, without a doubt, took place on February 6th, 2004. The track was set for the 97th edition of the Millrose Games, held in the most famous arena in sports, Madison Square Garden. I knew each of my competitors from previous races at the Armory on W168th Street. As race time approached, we were herded into the staging area, then onto the track. As I walked up the stairs, an usher motioned for me to come over. He says, "Take a quick stride on the turn, don't want to fall in front of all these people." I sheepishly took him advice and the rest of the field followed. As I walked toward the start line on the 160-yard oval, I looked to my left to see track fan Bill Cosby, itching to say "good luck." I shook his hand quickly then focused my attention to the race.
After the gun went off I remember sprinting to keep up with the Boston via France native Victor Gras. I heard 60.7, "Phew, it'll slow." After two more quarters in 67.x, we found ourselves separated with three to go. The banks were too steep to pass, so I had to make a go in the straightaway. Tries number one and two failed; he was ready for me. Try number three; I go for it, all I have, and got the corner. Coming around the bend the bell sounds, goosebumps on my body and sprinting with everything I have. One corner down, too scared to look over my shoulder I shift into another gear, second corner down and I can see the tape. The roar of the 14,000+ crowd was deafening as I crossed the line in 4:14.29. My coach would tell me after the announcer, Ian Brooks, had gotten a rise out of the crowd by proclaiming, "It's New York versus Boston, America versus France, come on New York." It wasn't the fastest I ever ran, but certainly my most memorable. Now when I watch the Millrose Games on ESPN I know a high schooler is going to experience what I did, not a better feeling in the world.